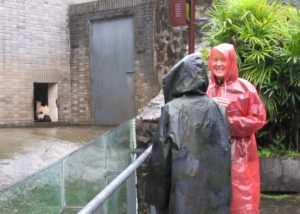 The panda named "Xiao Liwn" had been sleeping when Greg and I arrived, and now he was up and pacing directly in front of us. He was saying he expected be moved soon, and he was anxiously awaiting that event. "It's time for me to leave here and go someplace else," said Xiao Liwn.
For those of you who don't know, I (Anne) have the gift and the extreme pleasure of being able to talk to animals on a psychic level.
It was a rainy day in China. It had not stopped since we arrived at the China Conservation and Research Centre for the Giant Panda. According to the weather reports, there was more rain on the way.
This rain was a blessing and an annoyance. Greg and I were wet under our raincoats and volunteer jump suits, but we were also the only volunteer zookeepers out in the rain with our new panda friends. Everyone else had retreated to the comfort of the research facility to watch a video on releasing pandas back into the wild.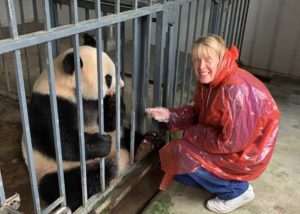 We decided to walk in the rain and talk to the pandas.
For a fee, this research facility allows you to be a zookeeper for the day: you clean the pandas' pens, make panda pancakes, and feed them carrot treats. It is an up close and personal experience.
Xiao Liwn continued to pace while repeating "I want out of here; I want out of here." This is when I decided to ask him some questions to get to the bottom of this perception.
I asked, "Where are you from?" He said "Not from around here." I said "OK" but I thought this was odd coming from a Chinese panda. Then in wandering around the area, I found a sign that stated he was from the San Diego zoo and was brought to Chengdu, China for the breeding program. So, he was correct. He was from somewhere else and he had "escaped" from there before. But according to our guide, he was not going to get out of this place any time soon.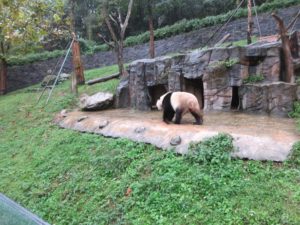 He repeated in my head, "I want out of here." In my frustration, I said, "It's not going to happen. I want out of my life sometimes, too, but I have to stay and find a way to enjoy my time here.I've learned the best thing to do is find something you like, and give thanks for that. I suggest you do the same because, most likely, you're not getting out of here."
As I walked away I said, "You know, you have a nice enclosure and should be able to find something to appreciate about it. When was the last time you visited the other parts of your area?" I left him with that thought.
When I came back, I asked, "How are you doing? What can be new and different for you?" He said "I haven't walked up to the very top corner in a while." He then did that and lay down. I asked, "How's that?" and he said, "It's good." Now, since he was lying down, I decided to walk around again to see the other pandas.
When I returned I asked, "How are you doing now?" He then lumbered all the way from the top of the hill to the safety ditch and railing where I was standing. He raised himself onto his back legs and fell forward so his front paws were on the glass directly in front of me. He looked up at me and said, "thank you."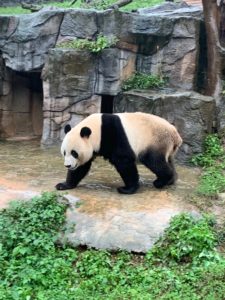 I was brought to tears because Xiao Liwn had a new perspective and appreciation of things even though his physical reality was not going to change. Our guide leaned over to me and whispered, "I've never seen that behavior before, and I've been coming here two or three times a week for the last couple of years. He came over to say 'hi' to you. That was special!"
He then walked away and so did we. Later I thought I should have taken a picture of this close encounter, but at the time it would have taken away from our intimate experience.
It was an honor and pleasure to help Xiao Liwn live a happier life through seeing a different perspective. And he opened my heart through our connection. I give thanks, too, for I am changed from this experience.