Bring intuition experts and entertaining motivational speakers Anne Salisbury & Greg Meyerhoff in to speak to your group.
Call us to Discuss Your Needs: 303-278-9585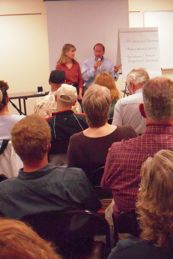 Intuitive consultants Anne Salisbury, PhD, MBA and Greg Meyerhoff of Go Intuition give entertaining and informative speeches on how you can change your life through intuitive decision making. These motivational speakers and intuition experts demonstrate what it's like to be really intuitive and have psychic abilities.
Speeches are tailored to your business, organization or group. Talks can be anywhere from 20 minutes to an two hours in length.
"Thank you for raising our awareness of intuition. Your talk gave people food for thought in both their everyday and business lives. One man, who said he normally doesn't pay attention to his intuition, woke up in the middle of the night after your talk with an "ah ha moment" about a project he had been working on for a year. He says he'll now start to pay more attention to his intuition after hearing your talk. Wow!"
– Sandy Mortensen, President, Summit Rotary Club
Topics for Speeches on Intuition
Intuition – Your Secret Asset: We all have intuition. Call it a hunch or a gut instinct. When we tap this inner wisdom, we give ourselves an edge in business. We also give ourselves a big leg up in life. Learn how intuition can become your biggest asset. Using it or losing it affects your bottom line.
Energize Your Relationships: You can have more satisfying relationships at work, at home and at play! Learn some practical tools you can apply immediately from this married couple that has applied these tools and created the love they desired.
Create Your Future with Self-Hypnosis: Experience how your inner mind can create the future of your dreams. Feel what it's like to transcends the conscious mind to tap your unconscious potential. You access the resources of your intuitive mind in this experiential talk.
Connect with Loved Ones on the Other Side: Loved ones who have passed are just waiting for you to communicate with them. Learn how you can connect with those on the other side. Loved ones share interesting stories that prove how we are all connected through our consciousness, or energy.
What Do Your Pets Want You To Know?: Anne Salisbury, PhD, and Greg Meyerhoff were the pet psychics for the Summit County animal shelter for ten years. Discover how you too can communicate with your pets. What do your animals want you to know?
"What a great topic! Anne and Greg really demonstrated what it means to use your intuition and apply it to both your personal and professional lives. Their real world examples pointed out how we can be more in tune with ourselves and our environment. Anne and Greg fielded numerous questions and quickly related to the individuals in the group."
– Louise Walsh, President, Denver Downtown Chapter, American Business Women's Association
"I was very impressed with Anne Salisbury and Greg Meyerhoff's groundedness, comforting, sensitive and validating approach to sharing their connectedness and wisdom from the Other Side, All That Is, and Higher Power. They are experienced intuitives, speakers, teachers, and authors. Many of our group commented on how insightful, 'on message' and caring they are. We would love to host them again due to the positive reactions and great turnout."
– Jacqueline Arnold, MSLS, Boulder County Chapter of IANDS (International Association for Near Death-Studies)
"We definitely owe you a debt of gratitude for your talk! It confirmed what I sensed about how we access our intuition. I loved how Greg Meyerhoff's down-to-earth analogies anchored in the different ways in which insights come to us. And as I am reading Anne Salisbury's book, Eureka!, I find that my own intuition is becoming more active – and that is priceless!"
– Kathy Gann, President, Denver Theosophical Society