Do you sometimes have troubl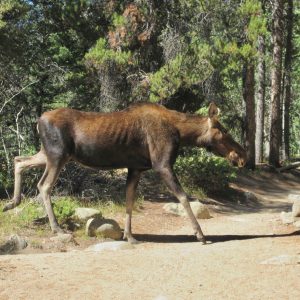 e creating what you want? A moose reminded me of the basics to creating.
Moose sightings are not that common in Rocky Mountain National Park, so if you miss one by a few minutes it can be disappointing. This is what happened to me.
On a recent hike, Anne and I ventured into the park shortly after sunrise. Around 15 minutes in, a fit couple came up from behind asking if we had seen the moose and her calf by the parking lot. They were so excited and wanted to share experiences, but we had missed this. I was devastated because that morning I had put out the intention to see one and had been vigilantly looking. What had I done wrong? This weighed on my mind for the next five hours.
As we finished our hike and approached the parking lot, we noticed some people talking with the park volunteers. We went over and made friendly conversation asking how they were doing. They were thrilled to share they had just seen the moose and her calf 10 minutes before. I could not believe what I was hearing. This morning we were a few minutes early and now at the end of our hike we were a few minutes late.
I had to stop beating myself up. I knew better. I told myself that Intuition brings you what you ask for when you let go, trust, and let it come to you. So, I stood there and decided to share in their joy and laugh with them, knowing that if I was meant to see a moose, I would.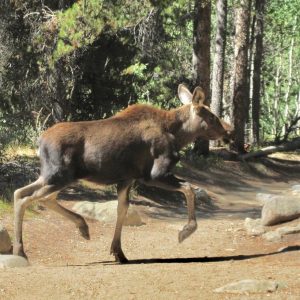 Just then, out of the corner of my eye, I noticed the trees start to sway in the distance. The mama moose emerged and started walking towards us. Her baby followed. To our amazement, she and her calf crossed right in front of us just 30 feet down the trail. The volunteer shared she had never been that close before even though she was stationed in that spot a couple of times a week. We were giddy.
What was my lesson in this? I had an extreme desire to see a moose and held on to that idea too tightly in the beginning. When I let go of my attachment to the outcome and enjoyed the people and my surroundings, the universe brought me a fabulous experience – just not in my idea of timing.
I received a great reminder of how creating works:
You have a clear desire or goal (to see a moose).
You are emotionally engaged – you believe it is possible.
You allow it happen versus make it happen.
You give thanks to the universe for a fine experience.
What would you like to create this holiday season? What would you like to give thanks for?
Let us know and have a Happy Thanksgiving!