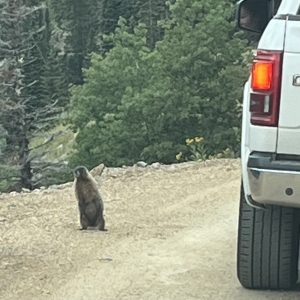 We were coming around a tight turn on the old Fall River Road in Rocky Mountain National Park when somethings surprised us. A marmot was standing on his hind legs seemingly communicating with the people in the car in front of us.
Yellow-bellied marmots live in the rocks at higher elevations. They are usually shy and run back to their rocks when someone comes close. But there he was, curious about the people in the car.
After a moment, he ran back to his rock outcropping and sat down. The car pulled away and we thought that that would be the end of our experience.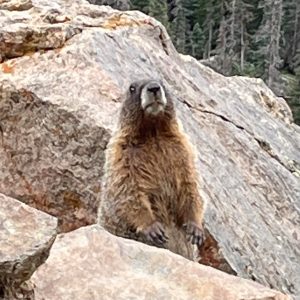 But we pulled up and the marmot immediately scurried over to our car, got up on his hind legs and greeted us like he had with the car before us. He looked like a professional greeter.
Anne asked, "What are you doing?" He said, "Saying 'hi,' I'm curious, not much is happening right now." This moment brought us joy even though he was mainly just curious.
On our drive up the pass, Anne and I had been reflecting on how far we had come in improving ourselves. I (Greg) was very shy as a kid. Anne had been quiet as a child and talked a lot to herself in her head.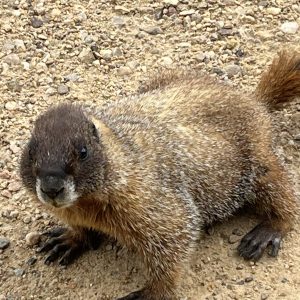 Now we both enjoy saying "hi" to most people on the hiking trail. We start up a conversation and appreciate getting to know new people. They are all different and wonderful. Connecting like this warms our hearts and smiling and laughing feels really good.
This marmot interacted with us like we do with people. He was curious and greeted us in his territory. We thanked him and let him know that he was showing us how to be friendly and approachable ourselves.
We continued to hang out with him for a few minutes until another car came up the dirt road. We pointed the marmot to them before we pulled out so they could have the same heartwarming experience.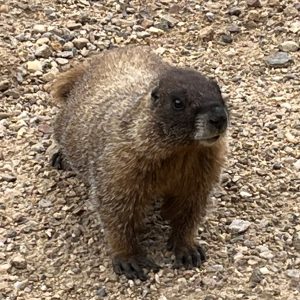 The marmot showed us how being curious about another can lead to a friendly and genuine interaction. Being friendly really does make a difference. We can all be like the marmot greeter!