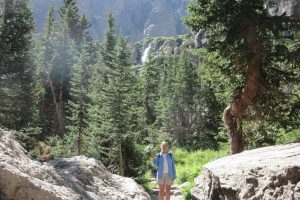 This summer we took a hike in Rocky Mountain National Park that challenged us. It was around 10 miles roundtrip with 1,800 elevation gain (which effectively adds another 1.8 miles).
After 4.7 miles up we reached Timberline Falls. We were tired and unsure we could finish the next section of the hike. It was a wet rock face that we would have to climb.
As I studied the hand and foot holds from a distance, I questioned my sanity. Anne had never rock climbed and I had just done it in college. That morning, she had fallen on the garage steps while loading the car for our trip. And, now we were senior citizens. I could say more, but that was plenty of reasons to turn around.
Sky Pond lay ahead of us a half-hour beyond this rock wall challenge. Finishing this hike was on my bucket list. And last year, when we attempted it, we watched people fall through the snow and get soaked, so we turned back. There was no snow now – just a rock face and water.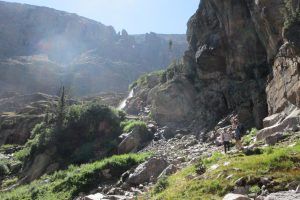 After sitting in silence for a while and checking her intuition, Anne felt we would be safe if we focused. She voted to go for it.
As we approached the wall, a young couple scurried beside us. We chatted briefly and then let them take the lead. They gave use some encouraging words and started up.
Now, it was my turn. But none of the places for my hands and feet looked like they would get me far enough up the face. What should I do? Anne was waiting for my instructions below me.
At that very moment of indecision, a hand came down towards me. It was the husband who had come back to lift me up through this tough spot. I then reached back and lifted Anne up. We both made it and felt supported.
The rest of the climb was easy scrambling. The hike to Sky Pond was spectacular – huge rocks, grassy waterfall filled fields, and a massive glacier moraine. Breathtakingly beautiful! We were so glad we stretched ourselves and completed the hike.
We had been warned that many people injure themselves up there. But our focus had paid off on the top. We made it back down the rock face without having to call in the helicopters for an emergency rescue.
In my glee for having made it to the summit, I was not as focused going down the trail as I was on the climb up. About half way back, I tripped on a root. This landed me face down hitting many rocks on the trail. A hiker who was a nurse saw this and came running to check me over and give me good advice. I was OK but would feel the bruises that night. To finish the hike, I really needed to focus on the trail and not daydream about how beautiful it was at the top.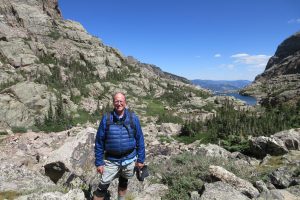 We concluded from our hike that we really need to focus. With the crazy energy in the world today and with our desire to escape from it, we need to focus everywhere we go and not just in the times and places that scare us. We need to focus even in the moments where we are tired and would rather let our minds drift and daydream.