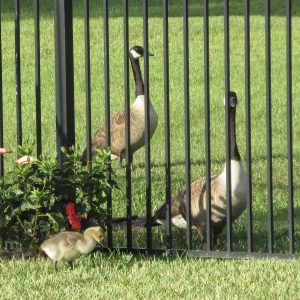 Geese have been walking by our back gate for some time now. They make their way from the pond to our neighbor's birdfeeder in search of fallen seeds. We often eat our meals on the back patio so we can appreciate the flock. One day, we noticed two new baby goslings.
As the parents walked by, we would say, "Your babies are so cute and you are such fine parents." We repeated this day after day, intuitively communicating with them. Eventually they became more comfortable with us and we felt loving towards them.
One morning, I (Greg) opened the back gate to the pond. When the family passed by, Anne intuitively called out, "Why don't you come into our yard?" The parents responded, "it's not part of our route."
On their way back from the birdfeeder, the geese stopped and stared at us. "What are you looking at us?" Anne asked. "It looks really nice in your yard. The energy looks nice there," they responded.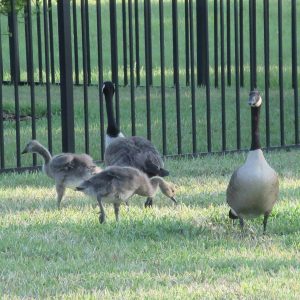 Anne again invited them into our yard at any time.
The next day, when we returned home from doing errands, we found the geese family in our backyard. We were shocked! Our back gate was closed and the family was not flying given the goslings could only walk. Anne asked, "How did you get in?"
"We saw the gate was open and waited until the other people were gone. Then we decided to explore. We think you were kind for leaving the gate open for us. Thank you for letting us have this experience."
I went around to the side of the house and found the gate open. The lawn cutters must not have closed it when they were done. We had no idea that the geese even knew about that gate because we had never seen them over there. They hung out by the pond.
We went back to the patio doors, and Anne asked, "What do you think of being in our backyard?" "We like it here. The grass is fresh and green," they said.
"You're welcome here anytime," Anne responded. "We don't know if we'll be back," the geese replied.
"Why is that?" Anne asked. "We don't know if the gate will be open."
"That's true," Anne said, "but you're welcome to come back when it's open. We just ask that you not poop in the yard."
"Are we friends?" Anne asked. "Not really," they replied.
"How do you classify a friend then?" "Someone you hang with," they said.
"Aren't we hanging together?" Anne asked. "Yes, we are."
"So, maybe we are friends," Anne replied. There was no response. It felt like they were pondering what was just said.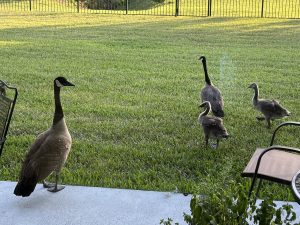 "Do you talk to other people?" Anne asked. "Not really. We watch them."
Then one of the geese stepped up on the back patio from the grass. Greg asked, "Why did you come up on the patio?" "To see more and explore," they said.
The geese then started to leave. "Where are you going?" we asked. "Nowhere in particular. Just exploring," they responded. Then they walked through the side gate, and we left it open behind them in case they wanted to return.
Later that day the geese returned and left some droppings on the patio. This was hilarious. Anne remembered she had asked them not to poop in the yard, and the patio was not the yard. This made us chuckle.
The next morning we found droppings on the patio by the front door.
We realized we needed to be clearer in our communication. Anne had intuitively flashed them the image of holding their need to go while in our grass. She had not even thought of flashing them an image of holding it while on the patio.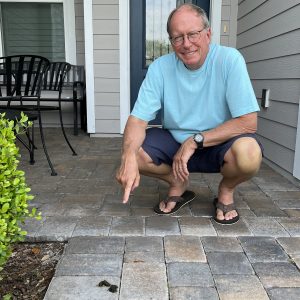 We had invited the geese into our yard, and they came. We asked them not to do their business in our grass, and they didn't. They heard us. We were the ones who needed to be more specific.
How many times have you said something that was misunderstood? You probably thought you were clear and wondered why you didn't get what you asked for.
Our geese friends were good teachers. They taught us to be clear when asking for what we want.