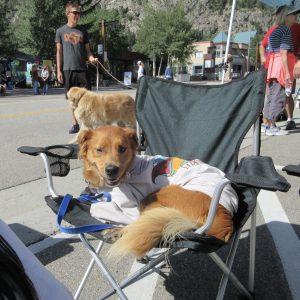 We gave the dogs pet psychic readings last weekend at the Canine 4K Run in Frisco, Colorado like we've done since 2003. This photo shows a happy participant! (SummitLAPS.org)
Here's part of a reading with two dogs that gives you a feel for such conversations. We'll call the dogs Rufus and Gina. They came with their human Bonnie (also a make-believe name). I (Anne) telepathically communicated with them while Greg did the healing energy work.
Anne: Good to meet you. What would you like to know?
Bonnie: Are our long hikes too much for Rufus?
Anne: No – Rufus says they're not too long but sometimes they are convoluted. He thinks they could be more straight forward. Sometimes they go backwards and forwards and all around. Why do you do that? He says he enjoys being outdoors but shouldn't you go from point A to point B?
Bonnie: Yes, he's right (laughing). Some hikes are steep and have switchbacks – that makes sense what he is saying. Is he in any pain when we hike?
Anne: He says his back left leg has issues – it glitches sometimes. But he likes the hikes.
Bonnie: Right, it does seem to hurt sometimes. What about Gina? Is she happy?
Anne: Gina says she likes a medium to slow lifestyle. She doesn't want you to get too active.
Bonnie: I'm laughing because that's so her! Is she in any pain?
Anne: Does Gina have any stomach issues? She says every once in a while her stomach hurts and it bothers her.
Bonnie: Yes, she does. I have to be careful with what I feed her. Do they miss their old place with the big yard and the dog parks? Now we are in a condo.
Anne: No. Gina says this is different but she is not missing the old place. Her opinion is, "Why would I miss something I don't have? That wouldn't make sense to miss it." She's very practical about it.
Bonnie: She is very smart! She is scared of thunder. What is that about?
Anne: Gina says it reverberates in her system and feels like it's rumbling through her body.
Bonnie: What can I do for her – love her and hug her?
Anne: Gina says she really likes that idea!
Greg: Gina's energy was a little off like she was beside herself. So, not being grounded would make her uncomfortable with thunder. I am bringing her back together energetically.
Bonnie: Look. These dogs just love this reading. Look how calm they are! This is unusual for then to be lying down with al this activity.
Anne: Well, Greg is doing the energy work while we talk. He is grounding them so they feel better. So, what you are seeing is from the energy work. That's why they lay down.
Bonnie: Yes. They are just so comfortable and calm now. This is awesome!
Anne: Let us know how it goes and if you want a follow-up we can do that by phone.
Bonnie: How can you do this by phone?
Anne: We clue into their names through you, look at their energy and communicate telepathically. We can do that from anywhere.
Bonnie: That is very cool! You are so right about their personalities. And now they are relaxed around all these people! Thank you.