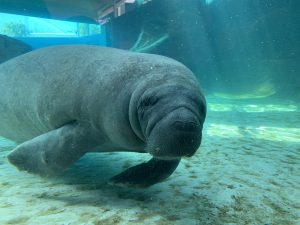 (See heartwarming videos below!) Have you ever wanted to talk with someone and they just weren't interested in talking with you? The same thing can happen when you are trying to strike up a conversation with a being of another species.
In giving pet psychic readings over the last twenty years, we've found that wild animals generally keep their communication among themselves. On the other hand, domesticated animals are used to interacting with humans and often have a purpose in getting their points across. They might be dependent upon you for food and housing and are curious about how they can develop a good relationship with you.
Anne has long had a desire to swim and interact personally with manatees. If you don't know, they are related to elephants. So, we decided to make her dream come true. But before we left for Florida to see them, we prepared by watching videos and reading books. We meditated to clear out our space of stressful thoughts so we could be more energetically appealing to them. We set the clear intention to have a joy filled experience. And for two weeks we asked our higher selves to meet up with them during our dreams and let them know we were coming.
After all the preparations, we flew to Florida to have some in-person conversations with manatees.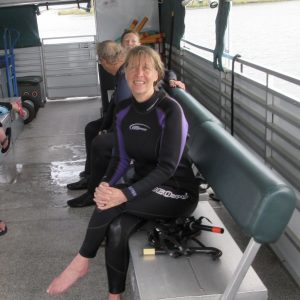 We started our adventure in Crystal River where manatees congregate in the winter to enjoy the warm shallow waters of natural springs. Normally, they are solitary animals. We took a snorkeling tour to observe these gentle mammals who come up for air every few minutes.
When we arrived, we were told the weather had gotten warmer and most of the manatees had left. The tours had limited in-water experiences for the last three and a half weeks. Anne and I entered the water near two who were eating sea grass. They didn't seem to notice we were there even though we were very close to them. Their focus was on eating.
Next, the tour guide spotted a group in a dating frenzy. There were around a dozen of them. We entered the water and, again, they were focused on their activity and not on communicating with us. We kept our distance, but they came towards us anyway and bumped into us over and over again as they rolled around and played in the water. Anne was bounced a lot .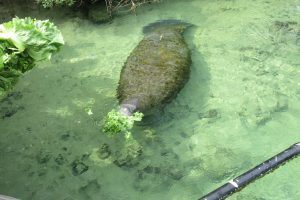 To have additional time with the manatees, we drove to Homosassa Spring Wildlife State Park to observe them where they were being fed with romaine lettuce. These three manatees had all been hurt by boat propellers and were in recovery at this facility.
Again, their focus was on eating and not on the tourists on the bridge observing them. We watched for close to an hour but could not draw them into telepathic conversation.
Hoping for more interaction, we drove south the next day to the Mote Marine Laboratory and Aquarium in Sarasota where they had an underwater observatory. They had two manatees who had been there for years and had been trained to interact with researchers during feeding and physicals.
Anne and I watched them eat and watched tourists snap photos before moving on to the next exhibit. We decided to sit quietly on the floor in the corner and be patient. We purposefully entered our hearts in meditation and telepathically showed them our desire to connect.
After about an hour, the manatee named Buffet started to come by the window where I was now kneeling. He would come by, look at me, and then head off to the other side of the tank. Then out of the blue, he came to the window in front of me and squished his nose into the glass like giving me a kiss. He pushed off with his fins to leave but stayed connected with his eyes as he swam away. He was very present and aware.
A minute or two later, Buffet came by and repeated his action. This felt amazing.
Anne wanted to see if he was aiming for me or just the location, so she changed places with me. He swam by, looked at Anne and chose not to squish his nose on the glass. He swam by again and again but he didn't squish his nose on the glass for her.
We changed places again to see what he would do next. He returned to bumping the glass in front of me.
Anne asked Buffet, "What are you doing? It looks really uncomfortable to squish your nose like that." He said "It doesn't matter. I'm saying 'hi.' I like his (Greg's) energy. His energy is like mine. It's interesting."
Buffet was giving me a "hello" the only way he could. He continued to bump his nose to the glass another 30 times over the next hour. Passers-by started to giggle and comment on this strange behavior. I was amazed at how this activity opened all of our hearts.
As my knees became tired from kneeling, we telepathically explained to Buffet that we had been there a couple of hours and needed to go. Almost immediately, he pulled back and left us to play with Hugh, the other manatee. Our interaction was over abruptly. We said goodbye.
In reviewing our experience, we had a strong intention to connect with the manatees before we took our trip. After we got there, it took us three attempts to reach our goal. We thought that swimming with them would give us the closest connection, but they they were in their own world and just bumped us around without caring to chat. That experience did prepare us for our intimate encounter with Buffet, who was personally interested in connecting and communicating.
Would you like to connect with an animal more? What dreams would you like to turn into reality? You can practice this:
Declare your intention (what you'd like) to the universe and imagine what it feels like to succeed at this.
Engage in your chosen activity (swimming with manatees or dolphins).
Open your heart, be patient, stay in the moment, and let miracles happen!
Watch Hearwaming Videos! 
Here are 4 short videos of Buffet giving manatee kisses to Greg. Enjoy!