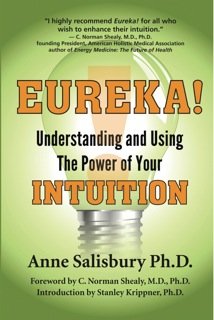 (Read original article below)
The Healing Path Book & Music Reviews by Laura Lee Carter, Healing Path Magazine, January 23, 2009
EUREKA! Understanding and Using the Power of Your Intuition by Anne Salisbury, PhD
Human beings have survived for many thousands of years using the inherent power of their own intuition. All great discoveries are the result of intuition — in art, music, poetry, science and daily life. So what is it, and why is it so important? Can you do something to become more intuitive?
Dr. Salisbury's book first provides an exact definition of intuition, points out its importance in the history of humankind and then shows you how to use your own more effectively. Eureka! is a resource that satisfies both your left and right brain by giving you a thorough understanding of intuition as well as many creative tools that you can use to achieve your goals. It also includes the "Eureka! System," a step-by-step process to begin improving your intuition today.
If you've ever wondered how intuition works, how to increase access to your own, and how meditation, self-hypnosis and dream work can assist you in the workplace and your everyday life, this is the book for you.
Read Original Article
Article on Eureka! Understanding and Using the Power of Your Intuition in The Healing Path Magazine.pdf