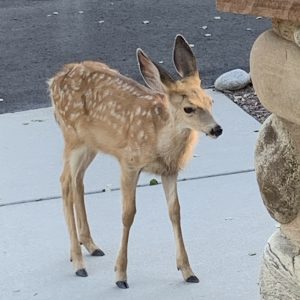 (See videos below.) While living in Colorado, a deer was born in our yard. We would intuitively communicate with her and say we were so happy to live together. As the fawn grew, she would often stand and stare at our front door. This would warm our hearts.
Now in Florida, we have witnessed and videoed the births of a Bottlenose Dolphin and a Snowy Egret.
This April, on a morning boat tour around Amelia Island, a pod of dolphins became oddly active near us. The captain slowed the boat to see what was happening and found one of the dolphins was getting ready to give birth. A few guardian dolphins circled her and another couple acted as midwives.
We all gathered at the railings to watch this activity. A midwife poked the mother's side and soon red blood was in the water and the newborn popped up. It kept sinking, not knowing how to breathe, so the others worked together to push it to the surface for air.
The captain said this was a special moment because in all the years he'd been on the water he had only witnessed this a few times. We were so grateful for being present at this special event.
In May, while at St. Augustine zoological park, we witnessed hundreds of wild birds roosting. They had flown into the facility to make their nests as they have done for years.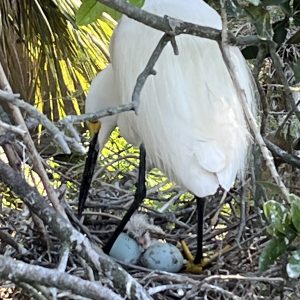 The facility has an elevated walkway that allows you to be only a few feet from the birds. We stopped next to a tree for a while to watch a Snowy Egret standing over her eggs in her nest.
Then, to our surprise, a beak pecked out of one of the eggs and a baby bird crawled out right in front of us. The mom casually tidied up her nest and then sat down to warm her newborn her second egg.
You, too, chose to be birthed into this world. Let's take a moment to appreciate your unique vibration. You are here for a reason. What did you come here to contribute as a human being? Let the answers come to you in your daydreams and night dreams. May you celebrate the goodness you bring into the world!
Watch the Dolphin birth: Bottlenose Dolphin birth 4-1-22
Watch the Egret birth: Snowy Egret birth 5-17-22