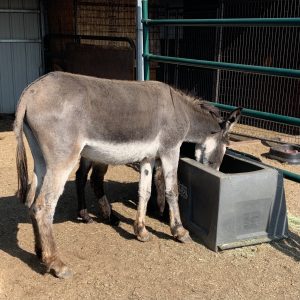 A year ago, Vahana ran wild with a "nuisance herd" of wild donkeys at the California – Nevada border. Now, she lives at a horse rescue facility in Fairplay, Colorado. This is a big change, but not her biggest change.
When she was adopted, Vahana came with two other donkeys from the wild. Recently, her two companions were adopted leaving Vahana alone – but not really.
Vahana was pregnant. When she was due, no one knew.
By the time we arrived at the facility to talk with the animals, Wilson had been born and was now three months old. His caregivers wanted to know, "How is Wilson doing here? Is Vahana happy? Why doesn't she like to be brushed or have her feet touched?"
Vahana was not as friendly with her caregivers as a domesticated animal would be. But she had changed since Wilson was born, and she still had a ways to go. Anne asked Vahana, "What do you want to say?"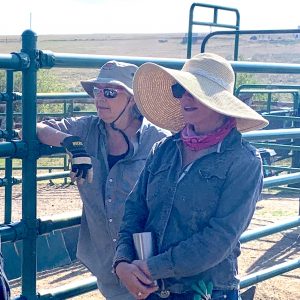 "Most people are stupid. I don't have to listen to most people because they are stupid. When they tell me to do something, I question the validity of what they are asking."
"Where I came from, they were less polite than you are. They had funny hats."
"I don't trust people around my feet. Are you smart enough to know what you are doing? I need to make sure before I let you around my feet."
I (Greg) looked at her energy and found she was very ungrounded. Having had such a hard life, Vahana did not want to be grounded, be present in the moment or even be alive.
I asked her if Wilson might give her a reason to be here on earth and be connected to it. She hesitated as if pondering the question. Then she responded, "Yes, I feel more desire to be here and connect with the earth now that I have the little one."
Thinking about Wilson shifted her focus from wanting to escape this reality to desiring to be here. Life had more meaning now – more purpose. Vahana added, "I have more to look forward to than I did before."
The caregiving team chimed in, "She has changed since the birth. She is softer and more approachable. She seems more present now that she has a purpose. She is teaching Wilson things." This shift occurred before she was fully grounded. Now with my helping her ground, it will be interesting to see how she continues changing.
As we started to shift our attention to Wilson, Vahana quickly added, "The people at the other place had funny hats." She wanted to be sure we understood that she was not criticizing the hats or people at the rescue facility. Elizabeth, the founder, wears big hats to keep out the sun. The volunteers also wore hats too, but she was ok with them.
At first glance, Wilson appeared content and seemed to embrace people naturally. As we opened up the conversation with him, he immediately broke away from eating and his mother to come over to us. It was a deliberate action. He came over to say "Hi".
"I'll be nicer when I grow up," he said. "I'm learning."
A caregiver who heard Anne share this chimed in. "He sometimes runs over to me when I get in the pen and I have to hold my hands up and energetically stop him from running or he could run me over."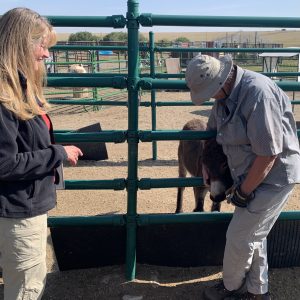 Wilson then shared, "See. I'm learning things. I will be getting better as I get older."
Anne continued, "Isn't it great that he knows that he is learning! That should make you happy. You are his teachers."
Vahana taught us that having a purpose makes life worth living. And Wilson shared that learning makes life fun.